Linear Fireplace Key Part of Designer's Personal Basement Remodel
3 min read
Interior Designer Vanessa Francis incorporated a Dimplex linear electric fireplace when designing a basement retreat for her and her daughter to use.
I renovated my unfinished basement as my house is fairly small and I wanted to have a space for my teenage daughter and her friends to hang out, have sleepovers, and not be wandering around at malls or other places. I also wanted a small gym/yoga studio for both of us to use.
Designer Vanessa Francis incorporated a Dimplex linear electric fireplace into her basement's design after seeing a friend use a similar fireplace.
A friend of mine had just renovated her basement and installed a beautiful, linear fireplace. I just loved the simple and sleek look and knew it would be perfect in my own space. I had saved many inspiration images of walls featuring linear fireplaces and TV's so I knew that I could make this work in my space and it would be as beautiful as what I envisioned.
I worked with Dimplex to install their >50" IgniteXL electric fireplace. It is linear, sleek, modern and only 5-1/2" deep which works perfectly in my small basement.  It actually sits atop a narrow, floating cabinet on the wall. The 50" length was the perfect size for a wall that had to accommodate the depth of my sectional, a TV, and the fireplace before a window.
Like most basements, it can get really cold. Since the space would primarily be used for relaxing and watching TV, being able to adjust the temperature for comfort is really important. This unit from Dimplex not only looks beautiful, it also produces enough heat to keep my basement at the perfect temperature for what I'm using it for each day. And on days when I don't need the heat on the fireplace turned on, we can still enjoy the realistic (and colorful) flames.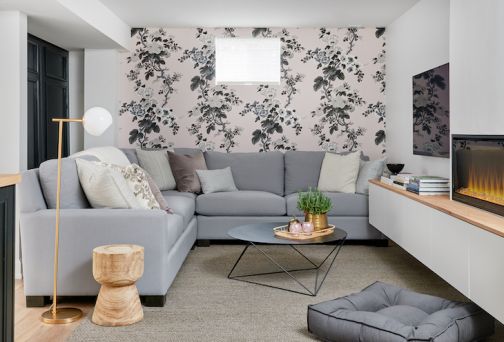 Designer Vanessa Francis blends a mix of modern and classic design to create a space for her and her daughter to enjoy.
As I look at the space I created, I simply cannot imagine not having the Dimplex unit there. It really does deliver on the warm, inviting space I wanted to create. And not only is it a place for my daughter and her friends to spend time together, but I have also been spending a lot of time there as well.