Why Infrared Continues To Be the Future
5 min read
Did you know there are different 'types' of heat? Infrared technology is changing the way we experience heat indoors and outdoor living spaces. Whether you are looking to add some warmth and comfort to your backyard patio or restaurant outdoor dining, its important to know what 'type' of heat is best for your space and your customers.
What is Infrared Technology?
Infrared Technology works by translating electricity into what is referred to as radiant heat. 
Note: Radiant heat is a direct source of heat that travels through electromagnetic waves invisible to the human eye.
Infrared technology creates heat through thermal radiation that is absorbed by the people and objects around it Instead of warm air being generated through traditional means such as conduction or convection. Infrared is 100% safe for the human body unlike Ultraviolet (UV) rays.
Through this process, infrared technology creates a fast and efficient way to distribute heat in whatever space you wish to install the heater.  
What Is Infrared Heating Used For?
Infrared heating is an environmentally friendly solution to distribute heat evenly, consistently and quickly with zero emissions. Whether plugged in and portable or fixed and hardwired, this technology is a safe alternative to open flame heat which can be hazardous to everything around it. Infrared heaters can be installed indoors or outdoors, with a wide variety of aesthetically pleasing styles and colours to choose from. With remote controls to easily turn the heat source on and off, customize temperature levels, and operate multiple heaters at once, warming your space has never been easier. 
How To Decide Which Infrared Heater to Choose?
Dimplex offers a variety of infrared heaters that are suitable for residential and commercial spaces.
It's important to consider the following factors when deciding on the right infrared heater for your lifestyle and environment.
the climate

size and structure of your space

fuel source availability

style preference

features such as remote controls, multi-heat settings, thermostat compatibility, auto timer shut off, etc
The Dimplex DIRP Outdoor/Indoor Infrared Plugin Heater (DIRP) is the perfect option for those looking for a quick, easy and safe way to heat and enhance their entertainment space. With this Plug-In model, simply mount it, plug it in and enjoy the heat produced in as little as 6 seconds.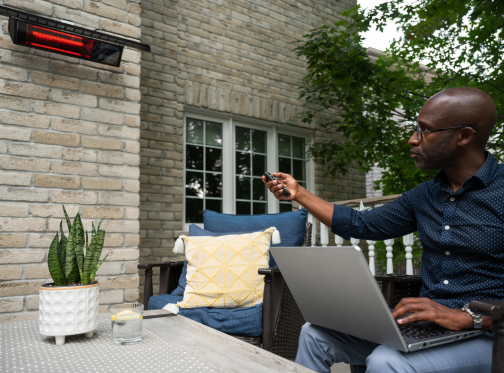 The Dimplex Shortwave Indoor/Outdoor Infrared Heater (DSH) complements commercial venues such as restaurants or outdoor entertainment spaces with low lighting. Due to the stylish nature of this infrared heater, it suits both indoor and outdoor decor. This heater can be mounted on the wall, a floor stand, or ceiling to offer flexibility in providing warmth wherever it's needed.
Note: ceiling bracket and mounting stand are additional accessories.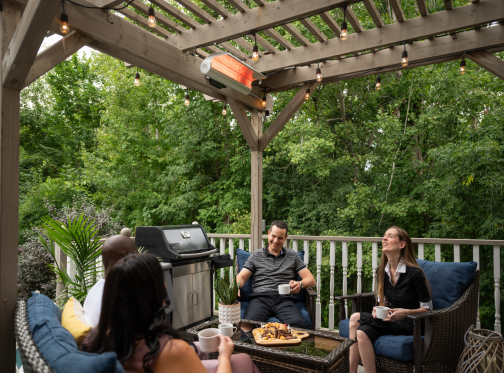 Why Choose Infrared
It's important to feel confident that your choice of heater is an investment that fits your needs for years to come when it comes to purchasing the right heating.
An infrared heater is not only a reliable and efficient heating solution but perfect for one of the biggest trends: Outdoor living & dining. Staycations have become the new norm and it's worth placing value in these spaces that you will get frequent use and enjoyment from. By investing in infrared heaters such as the Dimplex Infared Plugin Heater (DIRP) or the Dimplex ShortWave Heater (DSH), these outdoor products reflect the quality and comfort of your interior decor choices.
With safe, effective and fast heating capabilities, it's no surprise that more people are choosing infrared heating as their choice for warming outdoor spaces.