Which is Best: Gas, Electric or Propane Outdoor Heaters?
min read
Summers go by quickly, so it's understandable that you want to find ways to extend the use of your outdoor spaces and find ways to get rid of the brisk fall air. That's why purchasing an outdoor heater is the best thing you can do to extend the use of your backyard. 
However, with so many options available it can be hard to figure out which outdoor heater is best for you and your budget. The process can be overwhelming but don't worry - we're here to help. We're going to be breaking down which outdoor heaters are the best, so you can make the right choice when you go to purchase yours.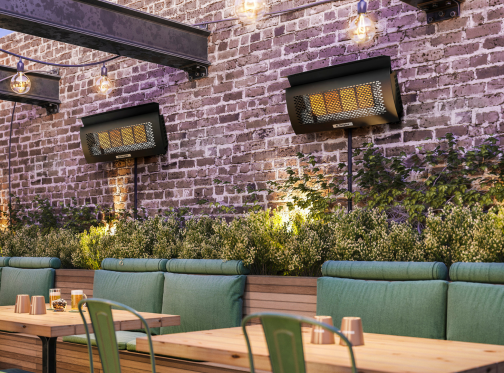 How Well Do Outdoor Heaters Work?
Outdoor heaters are great, as long as you make sure to choose the right one to heat your space. You need to determine how much space you need to heat and what temperature you want to heat it to feel comfortable. Also, take into consideration the average temperatures of where you live during the colder months. If you need help figuring out the right heater for your space, check out our Buyer's Guide to Outdoor living for a space to heater ratio chart.
Choosing the Right Fuel Source
https://www.youtube.com/watch?v=W5BNLsrSWXA 
Natural Gas Outdoor Heaters
They're a great way to heat up any space, especially if you are already using natural gas as a heat source in your home or commercial space. Natural gas lines can be installed according to your layout and preference and natural gas heaters can be mounted to a wall. If you already have a natural gas line connected to your BBQ this may be the ideal outdoor heating solution.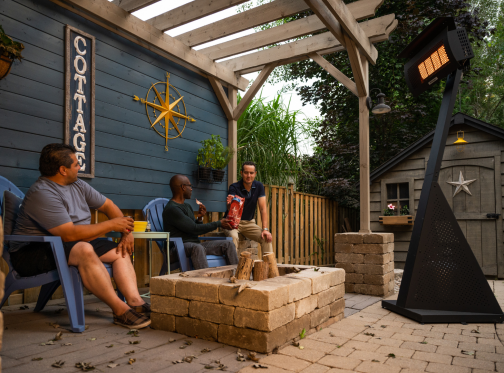 Propane Outdoor Heaters
Propane patio heaters are excellent at quickly warming up any backyard space. You don't require a direct connection to a natural gas line. Simply connect a standard propane tank to the unit and you are ready to go without committing to a permanently connected natural gas line.
Electric Outdoor Heaters
Electric heaters are a great option to heat your backyard and are relatively inexpensive to operate. This is a safe option for families with pets and kids as there is no open flame and they are out of reach. Choose from ceiling-mounted and wall-mounted outdoor heaters they are hardwired and the best at offering the highest level of heat. 
Most of Dimplex's outdoor heaters are infrared electric heaters and use rays to heat your outdoor space - a great option if you want to limit electricity usage.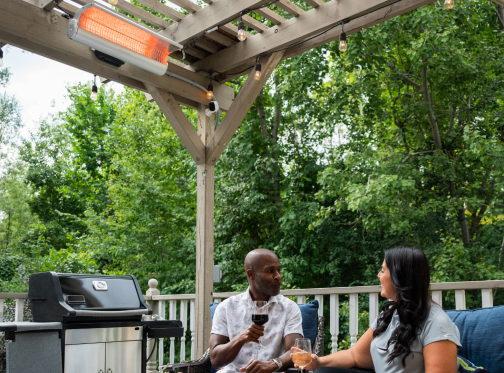 Plug-in Electric Heaters
Plug-in electric heaters are safe, easy to install and can be mounted on a wall. Our plug-in heaters use a standard 120v outlet so you don't have to worry about installing a 220v outlet. Simply use an existing wall out and you are ready to go. Temperature can also be controlled to multiple settings directly from the heater. They are safe and use infrared technology for optimal heating.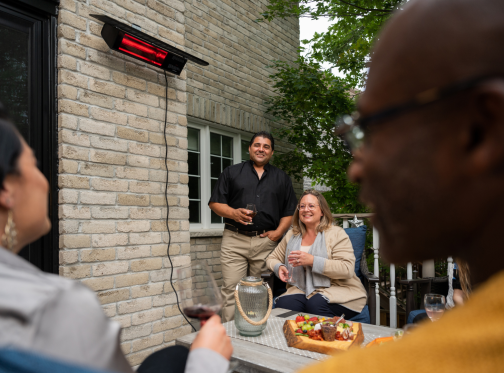 Outdoor Heater Cost and Maintenance
Outdoor heaters vary in cost depending on size, style, fuel type, and BTUs or wattage.
It's important to ensure you're taking care of your outdoor heater and performing proper maintenance to keep it working like new, and also for your safety. The great thing about outdoor heaters is they don't require too much maintenance or care. Make sure to give the heater a good clean-up at the start and end of the season to keep it running like new. 
Whether you choose gas, electric, or propane, you can be confident in your decision now that you know everything there is to know about outdoor heaters. 
Dimplex offers a variety of outdoor heater options and styles that will fit any outdoor space and budget. Order online or find a dealer near you.