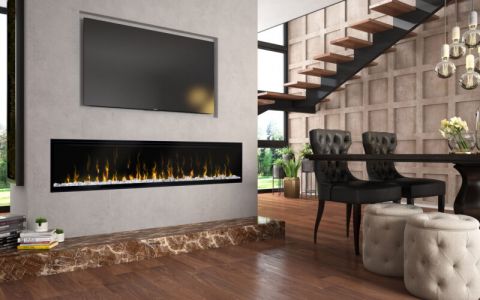 Why People are Investing in Fireplaces
6 min read
While some welcome the cold, others may not endure it with their current heating system. The solution: an efficient and beautiful electric fireplace. Here's why people are investing in fireplaces, and why you should be, too.
All over the northern regions of North America, forecasters are seeing signs of a long, harsh winter.
While some welcome the cold, others may not be in the best position to endure a long winter with their current heating system – especially snowbirds that have to stay home this year. Weather conditions aside, many of us are staying home due to pandemic lockdowns. With no where to go, our homes have become our everything and impact our happiness. So how can we improve our staycation stations? There is a simple solution: an efficient and beautiful electric fireplace.
Here are the top 3 reasons why people are investing in fireplaces, and why you should be, too.
Reason #1: A Long Winter Is Coming
All across North America, weather forecasters are talking about the looming onset of a very long and cold polar vortex of a winter for the northern regions.
This season may be especially challenging, even for those that normally sit well with the cold. Harsh winter weather puts a strain on even the best heating systems. Once the temperature hits a certain level, which for most is 5 degrees below freezing, your heating element goes into overdrive. It has to work hard to keep your home's interior at the set temperature.
Adding a new fireplace or electric heating system will not only keep your home cozy and warm all winter long, but it can also assist your primary heating system. Many owners use their fireplaces for supplemental zone heating. To save on energy costs, you can heat one space instead of the whole house. Further, a fireplace is a relatively small addition that can add a great deal of value to your home. The National Association of Realtors have said that fireplaces increase home values by an average of 6-12%. If you are thinking of resale, 40% of home buyers would pay extra if the home they were purchasing had a fireplace.
Reason #2: Beautify Your Living Space
Some people may be used to the cold, but after extensive mandated isolation periods, most are ready for a change of scenery. However, because of the long and harsh winter projections, it seems getting out more is simply not going to happen - at least not this year. If you're going to stay home, beautifying your space will not only give you the change of scenery you crave, but it can also provide you with a functional change that can affect every minute of your day.
A secondary indoor heating system, such as the Winslow 42" Wall-mount Electric Fireplace, or the IgniteXL Linear Electric Fireplace provide beauty as well as unimpeded warmth during those cold, gray days and even colder nights. Whether you want the seamless, built-in look of a modern linear fireplace, you're updating an existing traditional hearth, or you want a simple plug-in option, there is a solution for every need.
Just imagine yourself curled up on the couch in front of your new fireplace, sipping hot coffee, watching the snow fall as it blankets the world around you. An electric fireplace can really elevate your mood; with a variety of customization options you can use color therapy to brighten even the dullest day.
Reason #3: An Easy Investment that Makes a Big Difference
When it comes to investing in something, we already know to look for value. But more than that, purchasing a new fireplace for your home will effectively enact change on many levels.
Adding a fireplace to your home is easy and cost-effective, but it places your home in a new category with an appreciative bump in value. It is hard to beat the added aesthetic value that a fireplace offers, and this is a task that can be done without breaking the bank.
There is a solution for every budget and every skillset. If you're not looking to tackle a big project, the plug and play options are there for you. If you want the tidy look of hiding cords, you can build into an existing wall or even create a bump out feature wall that is sure to wow and impress.
Investing where it makes a difference adds real value to your everyday life.
In Closing
With the long winter quickly approaching and several more months of staying indoors ahead, a new fireplace means more than simply adding heat to your home. It means elevating your enjoyment, giving your living space a facelift, adding value without much upfront cost or difficulty, and simply getting more out of your time inside.