Enjoy the Warmth of a Fireplace Without the Heat 
4 min read
Summer days and nights can be hot. So the last thing you may want to think about is a fireplace. But a fireplace is not just for heat, it's also the perfect place to relax with friends and family.
Summer days and nights can be hot. So the last thing you may want to think about is a fireplace. But a fireplace is not just for heat.
Think about the dancing flames in a fireplace: they leap and glow, dance and fade. There is something so mesmorizing about watching flames – you can feel the calm and tranquility wash over you. In front of a fireplace, it's the perfect place to relax.
It is that feeling of relaxation and warmth that drives so many of us to install a fireplace – and Dimplex fireplaces are in high demand because many of them have the option to turn the heat off and just have the flames dance, increasing your relaxation, and adding ambiance to your setting. Here are a few places where units were installed to do just that!
Christine Dovey's Cottage Getaway
This cottage is the ideal place to have an extra source of heat from a fireplace. But in the hot summer months, when heat is abundant, you don't need it one degree hotter. But the flames are beautiful to look at! Imagine sitting in this room, enjoying the view, and having total relaxation on your seaside vacation.
For this cottage space, designer Christine Dovey wanted it to look like a real wood burning fireplace with the added benefit of electric. She had her contractor make a faux pipe leading up to the ceiling to make the unit look as authentic as possible. This is a unit from Dimplex called tockbridge that has Opti-myst technology inside that gives a real life flame and smoke effect.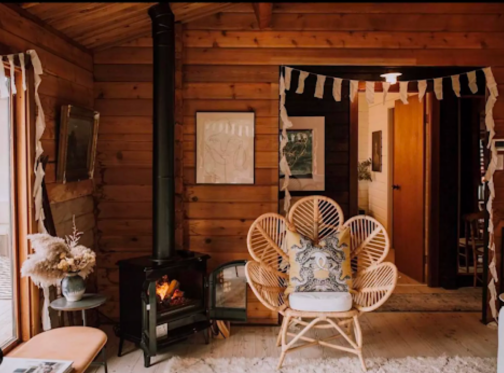 Jo Alcorn's Paradise on Wheels
You wouldn't expect to see a fireplace in an RV, would you?  In this 5th wheeler, a fireplace insert was added into an existing wall unit to add a little unexpected glamour to the space (along with heat or no heat when needed)! While it can add extra warmth when traveling through cooler zones, it can also be turned on at any time without the heat option to brighten a dreary day, add ambiance for the travellers, or make the scaled-down family room feel warm and cozy all year round.
Designer Jo Alcorn used the Dimplex Multi-Fire 23" XHDTM firebox for this space and it couldn't have turned out more perfect.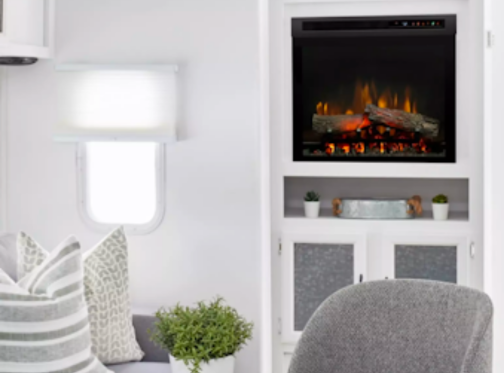 Christine Dovey's Bedroom Bliss
There is simply nothing more calming, beautiful and romantic than a fireplace. Adding a TV stand, mantel or wall unit fireplace into a bedroom gives the option of extra warmth where you need it to stay warm overnight in cool weather, or for ambiance in hot weather! A bedroom may not seem like the typical place for a fireplace, but it's the perfect place for the relaxing beauty that only a fireplace can deliver.