The Best Outdoor Heaters for Your Backyard Oasis
5 min read
Reclaim your space! With the addition of an outdoor heater, you are suddenly able to enjoy your patio space for longer.
Maximizing your outdoor space has been essential for any host hoping to keep all their guests safe and comfortable this year. After taking the time to customize your space to your liking, it would be a shame to cut the season short as the nights get colder.
Top Dimplex Outdoor Heater Options 
Dimplex offers a range of outdoor heaters with a variety of fuel sources, styles, and designs that can meet the needs of any layout. By investing in an outdoor heater, you will be introducing the ability to extend your outdoor gathering experience, getting the most out of patio season.
Plug-in Outdoor Infrared Heater 
The Dimplex DIRP plug-in outdoor heater is an excellent option for any host that prefers a low-maintenance heater. You definitely don't need to be handy for this one. You merely insert two bolts for the mounting bracket, plug it in, and voila! Instant heat! 
This is an excellent option for anyone who would like to try their hand at DIY and be able to confidently show off their self-made outdoor space to all their guests. The element is already pre-assembled, so delivery is a breeze.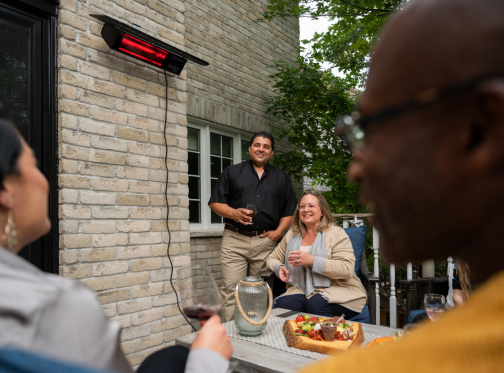 Natural Gas or Propane Radiant Heaters
Dimplex offers different fuel options, so you have the choice between which gas-powered heat option is best for your space. Prefer a propane radiant heater? The propane infrared heater is an excellent choice for you. 
While most gas heaters require the services of a gas fitter and electrician, Dimplex has done half the work for you. The DGR natural gas outdoor heater only requires the expertise of a gas fitter; no electrician is required. Once installed, you have an on-demand powerful outdoor heat source at the pull of a switch that will allow you to extend the patio season. This is a great choice to save space and allow yourself more room for decor.  
If you like versatility and don't want to be locked into one space, the option for easy portability is available with the Portable DGR Gas Radiant Outdoor Heater. This propane-powered heater conceals a full-size propane tank, is incredibly easy to assemble, and is virtually maintenance-free. Your heat is never confined to one area; move your heat source throughout your space, thanks to the easy wheeled base design.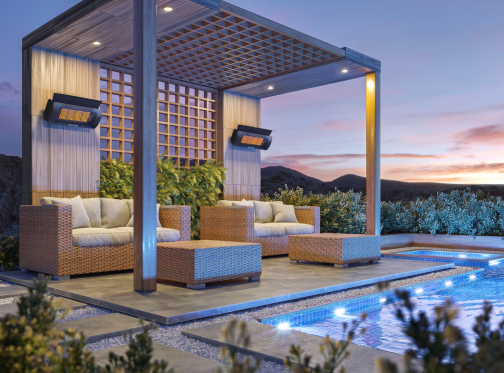 Infrared Outdoor Heater
Bring the quality and comfort of indoor gatherings outside with a Dimplex Indoor/Outdoor Electric Infrared Heater. The perfect heater for those of us that hate having to choose; because now you don't have to! 
This infrared heater is the most versatile outdoor heater on the market, with options for wall, ceiling bracket mount, or freestanding stand mount. The built-in features are endless: 
One, two, and three-hour delay timer.

Eight-hour auto shut-off safety mechanism.

Three second maximum heat uptime.

Includes three temperature settings ranging from 1000W - 2000W.
This product works on your schedule. Hosting does not need to be a stressful experience when you have a reliable, high-quality outdoor heater to help you.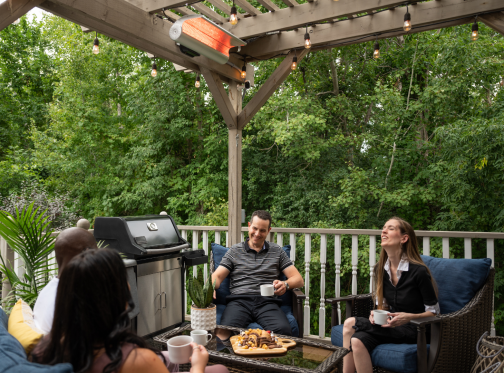 Dimplex Outdoor Patio Heater Safety Features

 
Dimplex takes customer safety seriously to ensure that everyone can enjoy our products. No need to let the worry of curious children deter you from enhancing your patio season this year. All of our ceiling or wall-mounted heaters are designed to be out of reach for children.
All outdoor heaters are weatherproofed and come with a 1-year limited warranty on the product. Dimplex's electric heaters meet the IP65 rating, which the International Electrotechnical Commission classifies. This classification ensures that our electrical panels are safe and that there can be no accidental contact by people, water, or dust. 
The free stand model features a fully concealed propane tank while also ensuring no accidental tipping while moving the structure as it can withstand up to 9.9 Mph/16 km/hr. Other features specific to the heater series and model include one, two, and three-hour delay timer, 8-hour auto-shutoff safety mechanisms, and temperature settings ranging from low to high.
Having an outdoor heater allows you to extend the time you can enjoy with friends and family in the outdoor space you have spent the season perfecting. With the variety of sleek and stylish designs Dimplex patio heaters offer, there will be no need to compromise on your vision for your outdoor space. 
Order online or find a dealer near you to purchase your outdoor heater today to ensure that you will enjoy your patio well into the fall and winter.