Build with Confidence: Five Year Warranty; Best Heat Source and More 
3 min read
Every principal space needs a hero - whether it's a modern lobby, a chic restaurant, or a designer living room. The IgniteXL® linear electric fireplace series delivers in so many aspects from outstanding aesthetics to innovative heat technology, and a 5-year warranty that lets you build with a new level of confidence. This industry-leading warranty gives you peace of mind when selecting a focal point feature for home, rental property or commercial space.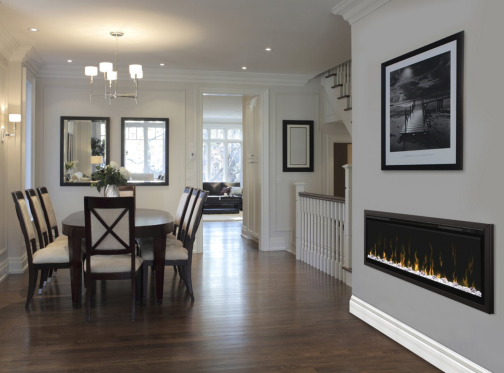 An Industry Best Warranty
Our warranty covers parts and in-home service, so you don't need to worry about removing the fireplace and sending it in - we'll send someone to your site to take care of it for you. For commercial installations like retail or hospitality, this means minimal interruption which is so important to your business. The extended warranty covers purchases back to June 1, 2019 (with proof of purchase).
Best Visuals in the Electric Fireplace Category
Why settle for second best? Dimplex IgniteXL® fireplaces deliver the category's most impressive visuals, making it a preferable choice for distinctive spaces. Available in 50", 60", 74" and 100" sizes, the fireplace features a flawless, panoramic view of 'more flame and less frame' that is also unmatched in the market. It also boasts the most realistic flame effect - a key distinction of the Dimplex brand. The added allure of a diamond-like, acrylic ice ember bed can be highlighted with a full spectrum of eight brilliant color themes, including two prism settings which cycle through a variety of colors. These versatile options give you significant choice to customize or change the look.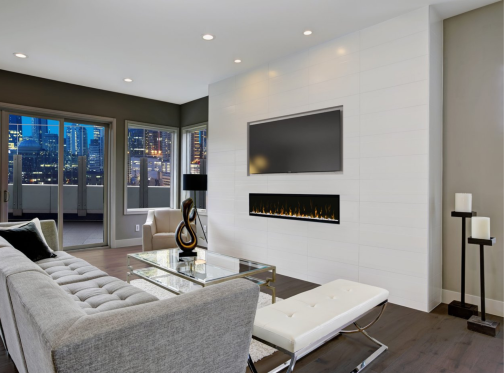 Sleek Design Delivers Installation Advantage
Beyond stunning aesthetics, the smart design offers practical advantages for installation and day-to-day operations. The clean-faced design finishes seamlessly with drywall, stone and tile settings. Built at just 5 7/8" deep, it's the first linear fireplace to fit flush into 2" x 6" framing. This sleek design trumps other products with bulky enclosures which require large build outs that reduce a room's square footage.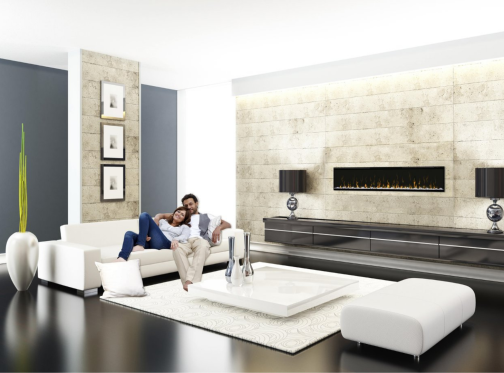 Exclusive 240V Wiring Provides Best Heat Source
In addition to standard 120V installation, an exclusive 240V wiring option enables the Dimplex IgniteXL® to provide up to 8,500 BTUs, making this fireplace a bonafide heat source for zone heating of main living areas or high traffic areas in commercial spaces. In fact, the patented, built-in Comfort$aver™ Heating System warms up to 1,000 square feet and uses less energy than the leading quartz infrared heater by automatically adjusting fan speed and heater wattage to meet the rooms requirements. For all-year enjoyment, the flame can operate without the heat – perfect for everyday ambiance.
From installation simplicity, to dazzling visuals, to heat performance and the industry's best warranty, this fireplace delivers a better experience whether you are a builder, designer or homeowner. Build confidently!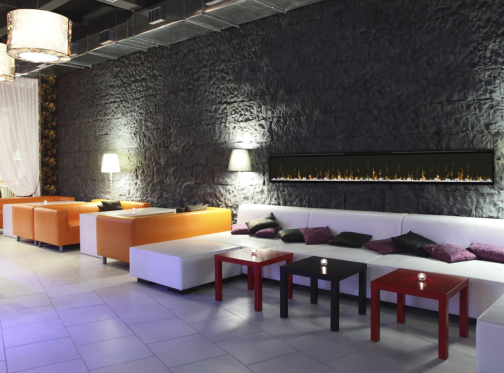 For more information on why our IgniteXL® fireplace is the perfect fireplace for both relaxing and entertaining, check out our blog One Fireplace Two Functions