Why Homeowners Are Choosing Dimplex for Outdoor Heat Solutions
4 min read
We might be a little bias in that we love our products, so we went out to see if others felt the same way, we thought you might want to hear what they had to say.
Dimplex Freestanding Portable Heater for Poolside 
Meet Mike and Tammy! In the search for the perfect outdoor heater, Mike discovered the Dimplex Freestanding Portable Propane Heater (DGR) to compliment his families poolside fun.
Mike, Why Did You Choose the Freestanding Outdoor Heater? 
"My family and I we've always enjoyed spending as much time as we can outdoors, especially with having the pool. When we were looking for an outdoor heater, for options, the Dimplex Radiant Portable Gas Heater really checked all those boxes for us. It was easy to move around our backyard space. We could move it to either the pool or closer to the house on the deck and for being such a small compact heater it really covers a large area of heat or warmth for us in the family which makes it quite comfortable." Says Mike.
What Is Your Favourite Feature with DGR Outdoor Heater? 
"I really like drying off under the heater in the cooler summer nights just because I can be in the pool for longer without having to worry about being cold when I get out." - Shares Mike's son.
And Mike shared: "We really love our Dimplex heater because it doesn't limit our summer evenings to only one spot."
Transform Your Patio From Good To Great.
Jennifer is an outdoor enthusiasts from poolside to pergola to fire pits, you name it they are enjoying it. So, adding heat was a no brainer for Jennifer and her family. They now enjoy a backyard experience that is both stylish and warm all year around with the Dimplex ShortWave Outdoor Heater (DSH).
Jennifer, What Attracted You to a Dimplex Outdoor Heater? 
"What I love about our Dimplex outdoor heater is that it's a small sleek unit, it's very modern and it has instant heat. Within a few seconds, the area is completely warm. I love that it also has various heat settings. The DSH also has a multi-hour timer and an auto shut off which is a great safety feature." shares Jennifer.
How Has Adding Heat to Your Backyard Changed Your Lifestyle?
"Since having the Dimplex ShortWave Outdoor Heater, it has literally extended our outdoor patio season for us. We'd normally be packing up our outdoor furniture shortly after the kids go back to school, but now we are leaving it out so we can relax and enjoy the warmth of our heater. So we had purchased a fire table, in the past, hoping that it would heat up our outdoor space and as aesthetically nice as it is, the heat doesn't radiate, so it doesn't help us with extending our outside time." said Jennifer.
Jennifer shared this story with us too, "When we first had our DSH installed, my daughter and I were relaxing on our hammock one cool evening and she wanted to go get a blanket to stay warm. Instead, with a click of a button, we felt like we were sitting in the sun. We couldn't be happier with our decision to install our radiant heater."
Every. Moment. Matters. That's what Dimplex is all about - helping you make moments and memories. Jennifer's full story is on our YouTube channel too.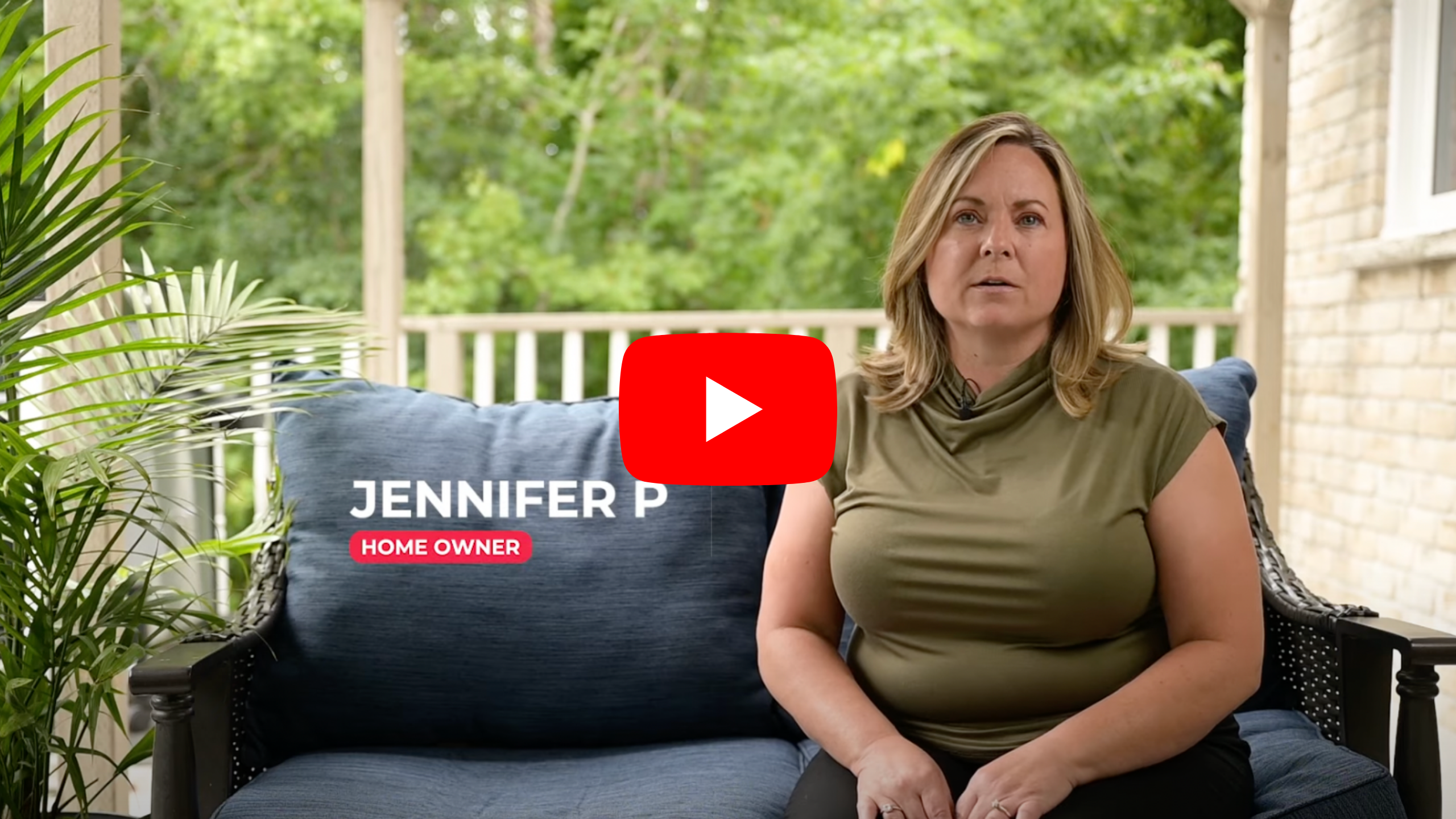 Heat on the Go!
We caught up with Kirk D, who discovered the Dimplex Infrared Plugin Outdoor Heater (DIRP) as the perfect solution to the cool nights when him and his wife snuggle outdoors as they watch the stars.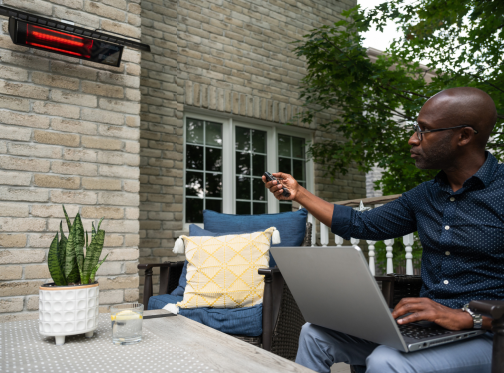 Kirk, What Was Important to You When Shopping for an Outdoor Heaters?  
"I used to think that getting an outdoor heater would involve a lot of work, but with the Dimplex infrared heater all that was required were two bolts and then to simply plug it in and within five seconds it was fully heated, but if then it got too hot we could actually use our remote control and adjust the temperature." shares Kirk, he also shared:
"What we really appreciate too about it is that it's weatherproof and so that gave us added peace of mind. My wife and I, you know, before the heater we'd have to go inside when it got too cold, now we can stay outside and continue in the conversations in one of her favorite spaces or patio. With our new Dimplex heater we can now stay watching the stars."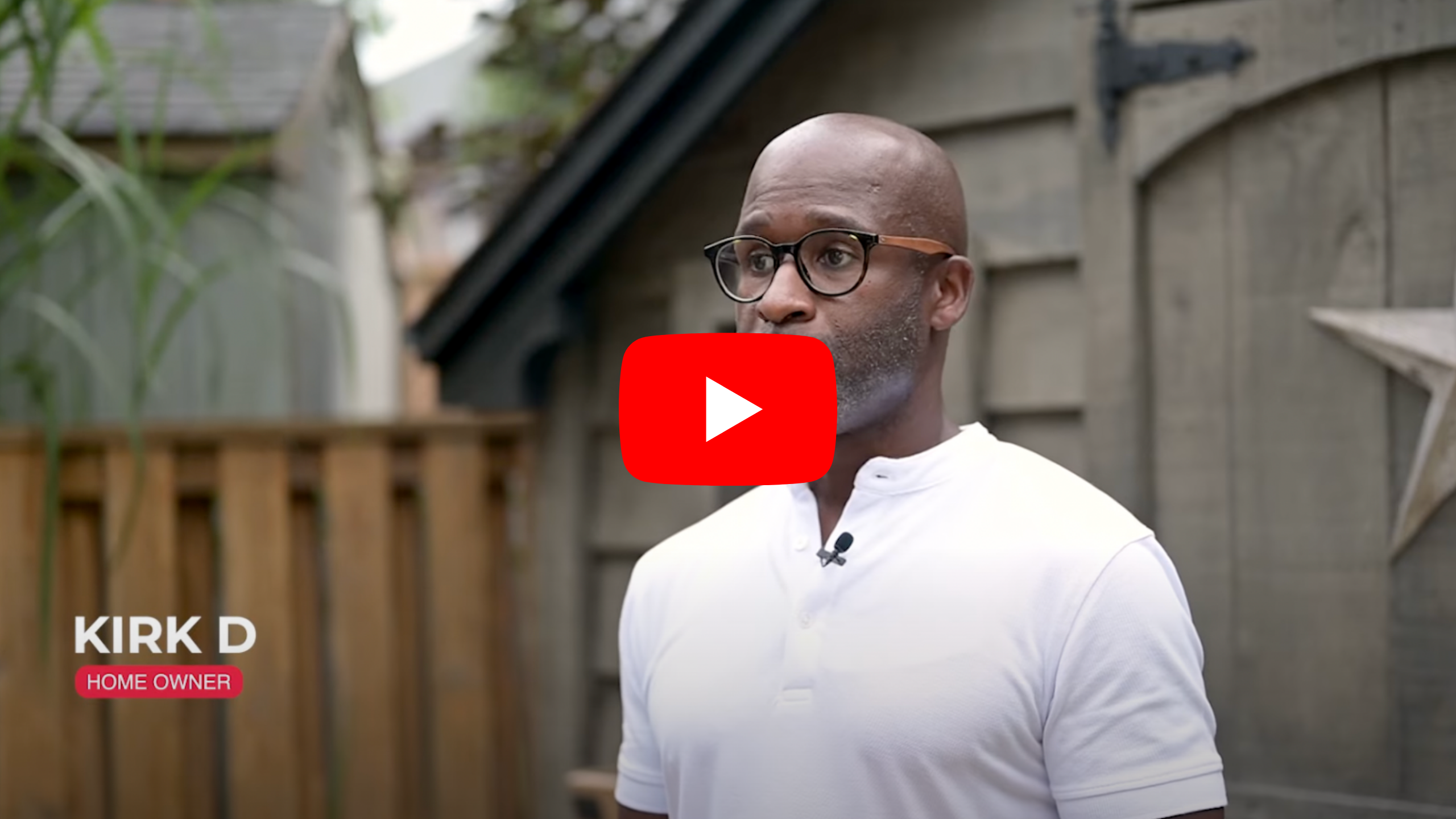 See for yourself how easy it is to install the Dimplex Plugin Outdoor heater and hear what else Kirk loves about it on our YouTube Channel.
Making a Three Season Room, A Four Season Room.
Do you have a screened in porch? A glass or greenhouse room in your home?
Once of the selling features on Esthers new home was the large three season room. What she discovered with her husband after their first winter together, was now much they missed sitting on the porch. So, she decided to make a change before the next winter arrived. Now, Esther, is getting use out of her sunroom in the off season thanks to the heat provided by her Dimplex Long Wave Indoor/Outdoor Heaters (DLW).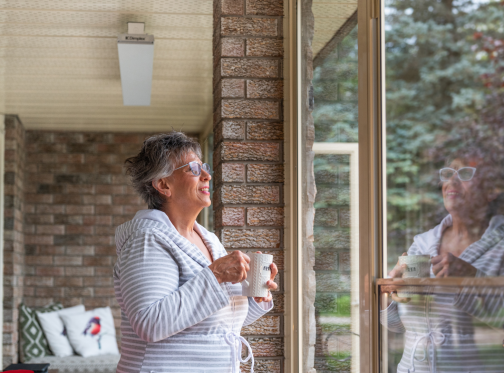 Esther, Why Did You Choose Your DLW Heater? 
"I love the Dimplex long wave. Ever since we've had it installed, it has really added an extra element to our sun room. Before we had a small heater, so that in the off season, spring and fall, we would try and be able to use the sunroom a little bit longer. It was a little heater that my husband had, so it was kind of warm by him, but not for me, so this is absolutely awesome to have this and now you can go out anytime, you can have your coffee in the morning, watch the news on your iPad, and even entertaining has now taken it into another level because we can have people all year long. It's so awesome to not only be able to watch the rain, but now we can watch the snowflakes as they fall. We love the sunroom because we can see nature as it's occurring."
What Is Your Favorite Feature About Your Dimplex LongWave Heater? 
"I love the sleek design they just disappear into the ceiling and when they're on you don't see anything you just feel the heat. I also love the fact that I was able to have them installed with a thermostat, so you can turn it off when you want, but you can go out turn it on and then go and get your coffee come back and the room is toasty, warm for you to sit in." share Esther. That's right the Dimplex LongWave is available in White or Black and will never have the orange glow most outdoor heaters have. They are designed to be felt not seen.
Esther also shared with us: "Now with the Dimplex Long Wave, the other thing is that I really noticed I have 'me time' in the morning, no matter what the temperature is, I can go out turn the thermostat on, I come in and get my coffee, I go out and read a book, I have my time to just think and meditate and watch nature and it's just been wonderful."
Imagine giving yourself the gift of time, all because you added heat into a room! Check out Esther space and see the Dimplex LongWave Indoor/Outdoor Heaters in action.