The Best Way to Heat Your Outdoor Patio on Chilly Nights
5 min read
After months in the cold, spring has started to peek through with warmer days and new buds. Many are now excited to get outside, enjoy the sun and start 'patio season.' Or maybe you are lucky enough to live where patio season is all year round, provided you have the right heating options. What are the 'right heating options'?
Why choose an outdoor heater to warm up the patio
Outdoor heaters are simple, easy, and a safe alternative to a wood-burning fire pit. They come in a variety of styles, freestanding, ceiling, or wall-mounted. They offer instant heat, often with controls to adjust the level of heat depending on the time of year, thus giving you the ability to enjoy the patio season for longer. However, not all patio heaters are equal. So, how do you know which is best for your space?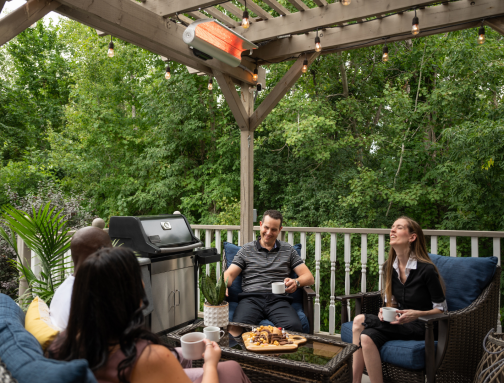 Heat where you are with a freestanding infrared patio heater
Most restaurants have invested in movable propane heaters to keep their guests warmer into the evening and enjoying the outdoors earlier and longer in the summers. You've likely experienced one yourself. The beauty of a freestanding patio heater is the portability and often sleek design. The slender shape and full body of the base allows for a full-size propane tank to be conspicuously hidden while blending in with your aesthetics. The wheel base design make them easy to move from space to space so you can enjoy your guests anywhere - not just where the heat is. Although this heater requires you to change or maintain a propane tank all year, the best part of these types of patio heaters is that they are instant-on; one pull of the switch, and you are toasty warm without missing a beat. To see this heater in action check us out on Instgram @dimplex_northamerica to get the full effect.
Warm up your gazebo with patio heaters
If space is a challenge, consider using an existing structure to add some warmth. Several wall-mounted outdoor heaters are safe for installing on metal, wood or cement structures. They radiate warmth exactly where you want it, and with Dimplex, all our outdoor heaters are wind and weather resistant, giving you extra peace of mind with installing a fixed outdoor heater.
image courtesy of https://greybirchdesigns.com/fall-outdoor-dining-chili-recipe/)
What all patio heaters have in common
There are many options for patio heater: plugin, hardwired, freestanding, gas, propane, electric. Making a choice of which heater is right for your space depends on several factors. However, they all have some elements in common:
Instant heat: All outdoor patio heaters will heat your space generally in less than 10 seconds. 
Weather-resistant: As the heaters are designed for outdoors, the anodized coating and wind guards will help keep your heater for many seasons
The Understudy: Your outdoor patio heater shouldn't be 'the star of the show'; it should be the understudy, a player ready when you need it but otherwise blends into the background.
Are you ready to warm up the patio?
We have some great options to get you started but If you aren't ready to make the commitment a plugin outdoor heater is a great option. If you need the flexibility of moving between spaces, the freestanding model is another easy to use, move with your heater.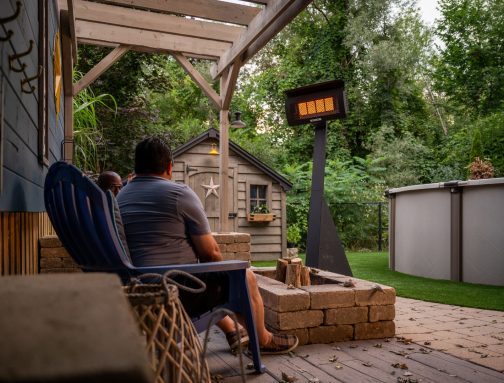 For more permanent solutions, view the hardwired series in infrared or shortwave heat options. But don't take our word for it; see what others have had to say too: