Wood-Burning Fire, Without the Work
6 min read
Everyone likes the summer for different reasons. Whether it is the hot days and cool nights, vacations, pool parties, longer daylight hours, or just being outside without having to put on five extra layers of clothes, the summer months usually make people pretty happy. One of our favorite things about summer is heading up to the lake and sitting around the fire at night. There is something about a fire that seems so calming. 
When buying a first house, some people seek out a wood-burning fireplace as they may have grown up in a family home that had one, or remember their cottage and having enjoyed a fire outdoors. Whatever the reason, the look and feel of a wood-burning fireplace brings back memories - but these types of fireplaces do come with work and mess. 
Thankfully, there is a solution to this madness!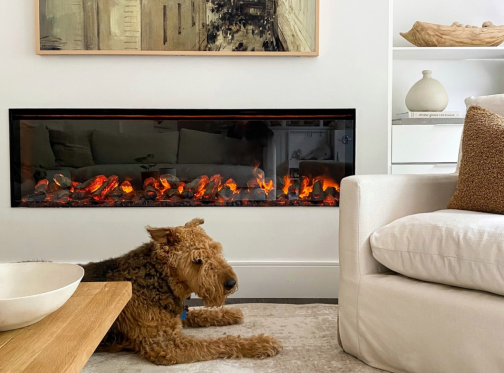 Ditch the Mess of Wood-Burning Fireplace
While memorable, a wood-burning fireplace comes with a lot of work: chopping wood, going out in the snow on a cold winter night to load up wood, cleaning out the leftover ashes, cleaning blackened doors, and of course, yearly cleaning on the chimney. These tasks quickly add up and can become quite tiresome. 
Electric is the New Gas
All this work can make someone look for alternative solutions for their fireplace. A gas insert is an option but the cost to convert it over can be high and many don't want to burn themselves on the glass of a fireplace as it can get extremely hot. 
Electric fireplaces are a great alternative and are easy to install. Gone is the worry of burning yourself, and with so many styles and technology options, it's easy to have the look and feel of a wood-burning fireplace but with the safety of electric. 
The Optimyst Line
Looking for a realistic look of a wooden fireplace? The Optimyst line of products has been around Europe for quite some time and it is starting to have legs here in North America as well. The logs are molded from real wood and they pulsate and glow making it seems like they are actually burning, there is a realistic ash mat that reduces clean up, and the flame and mist effect makes the entire unit look so convincing. It's so realistic you may not believe it's not a real wood-burning fire).