Why Are Electric Fireplaces a Great Choice for Condos?
3 min read
If you're someone renting, wood burning and gas fireplaces aren't always easy to come by. Lucky for you, there's a lot of flexibility with electric fireplaces.
There's nothing quite like the warm glow and ambiance of a fireplace. With electric fireplaces, you can enjoy the style and function of a fireplace in your condo, apartment or rental home without making a permanent change or dealing with ventilation or flues. Options include free-standing mantels or furniture pieces with fireplaces built-in or fireplaces that are hung on the wall or stand on a piece of furniture like a flatscreen TV.
With so many styles, options and designs to choose from, you are sure to find a gorgeous unit to meet your aesthetic and installation needs.

The great thing here is that many, but not all, electric fireplaces just plug into your standard wall outlet. No need to mess with circuit breakers, wiring and other things best left to licensed electricians. Just find the right spot for your fireplace and plug it into the nearest outlet. (but please don't plug it into an extension cord or surge protector).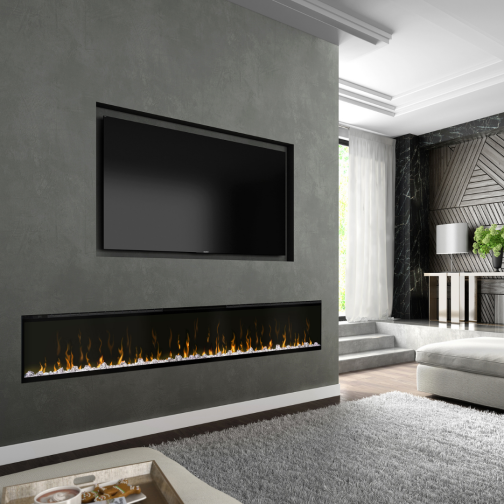 Other Benefits of Electric Fireplaces
If that wasn't enough, electric fireplaces have many other benefits that make them a great option.
They are safe – no worries about fumes, smoke, or carbon monoxide poisoning. Additionally, most electric fireplaces are safe to the touch. Especially the Dimplex Opti-Myst® Pro1500 Built-In Electric Firebox. The Opti-myst flame effect uses revolutionary ultrasonic technology to produce a fine mist that creates the lifelike illusion of flames and smoke.

Year-round usability – most electric fireplaces have the option to run with or without heat. This means the ambience of a fireplace is enjoyable year-round without having a major impact on your current heating/cooling system.

Longer life-span – unlike other fireplaces, electric fireplaces are less likely to rust or corrode over time.