Are Electric Fireplaces Expensive to Operate?
3 min read
When it comes to cost, there is a common misconception that electric fireplaces are expensive to operate. Did you know they are indeed less expensive than gas? 
What comes to mind when you think of fireplaces? Warmth, comfort, relaxation, and luxury.
These are all great reasons to purchase a fireplace. But, there is probably another word that comes to mind, which might make the thought of a fireplace less exciting - that is the on-going operational cost and clean up after the fire goes out.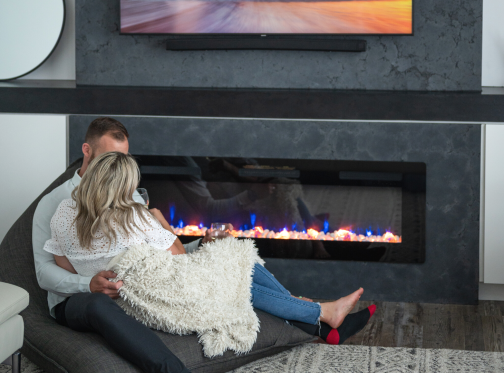 Save On Your Bills with an Electric Fireplace 
When it comes to cost, there is a common misconception that electric fireplaces are expensive to operate, but that simply isn't true. They are in fact less expensive than gas and wood burning, such as Dimplex electric fireplaces, can be operated for just pennies a day.
When you choose to activate the heat feature along with the flame, a Dimplex electric fireplace uses approximately 1500 Watts. At the average hydro cost, the total cost to operate the flame and heater is approximately 8¢ per hour (when the heater cycles at 50%). These amounts can fluctuate depending on the electricity rates in your specific area, however, it is still very low. As a comparison, gas fireplace manufacturers regularly advertise running costs of 17¢ per hour.
Heat Your Space Efficiently 
This difference in costs is because electric heat is 100% efficient. All the energy supplied to the unit is converted into heat, which stays in the room to keep you warm.
Gas fireplaces, on the other hand, often advertise 70-80% efficiency. This means that 20-30% of the energy supplied to the unit is vented outside. In other words, 20¢ to 30¢ of each dollar you spend heating your house with gas is going out your ventilation system.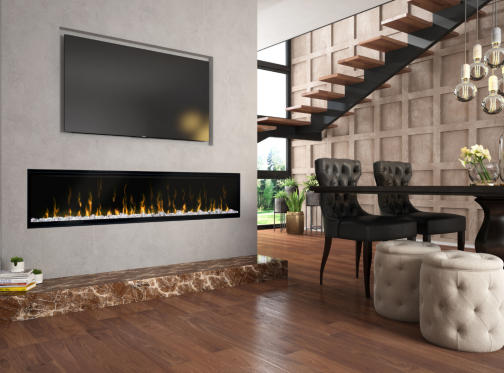 Enjoy the Ambiance All Year Round 
Unlike gas or wood burning fireplaces, electric fireplaces can also be run without heat, allowing you to enjoy the ambiance of the fireplace year round.
When you are not using heat, the flames of an electric fireplace use slightly under 300 Watts of power. With an average electricity rate, the unit operates for a remarkable 3¢ per hour providing all the ambiance and romance of a fireplace, without the heat, whenever you want.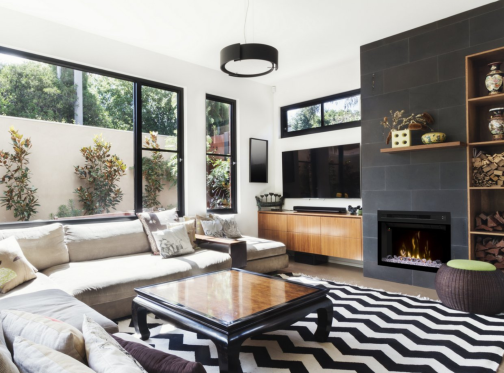 Find Your Perfect Electric Fireplace
Not only are electric fireplaces less expensive to operate than gas, but they also heat your space faster and are great options when decorating or renovating a space. 
For other ideas and inspiration check out our blog: blog: How to Customize your Fireplace for any space.