Add a Fireplace in Your Bedroom for Some More Heat
4 min read
Sleep is the foundation for a good life, and as such, your bedroom needs to be comfortable, have the proper temperature, and be a place you look forward to going. 
Over the past year, adding a fireplace to your bedroom has become a hot decor trend. People are starting to focus on ensuring their bedroom is a comfortable space where they can get the best night's sleep, while making it aesthetically pleasing. 
Reinvent Your Bedroom Space 
An electric fireplace can add ambiance to any room, especially the bedroom. This open concept Opti-myst electric fireplace unit allows for a division of the bedroom and the ensuite yet ties them together and adds the beauty of a fireplace to both rooms. As you get ready to head out for the day, or unwind at night, you see the dancing flames and can feel the calm wash over you; the optional heating unit can be added for warmth where you need it, and when you need it. At once relaxing and romantic, a fireplace grounds you and sets the stage for a peaceful night.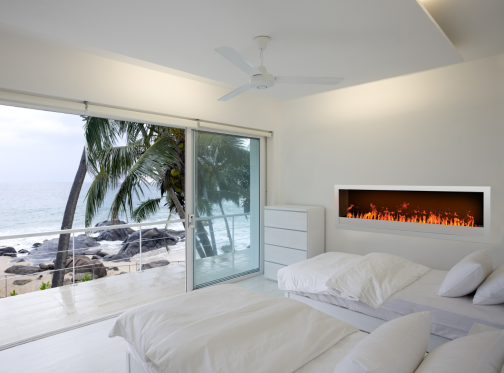 Adjust the Temperature in Your Room
Our fireplace units are simplistic in their beauty, yet add so much to a bedroom's décor. Installing an electric fireplace in your bedroom allows you to adjust the temperature in a set area – say for added warmth before tucking into bed, or to warm your room as you wake up and spend time in just one area of your home as you prepare to leave the house for work. Rather than raise the thermostat in the entire house, warming the rooms where you're spending time is highly efficient and cost-effective. Dimplex fireplace units are very effective, costing only pennies an hour to operate but providing enough heat to warm a sizable area. 
Create a Relaxing Environment
Our fireplace mantels offer stunning aesthetics, worthy of a feature wall. They upgrade the entire room, to a state of absolute retreat. These units provide ambiance, calming relaxation from the flames, heat options, and absolute beauty. Adding one of these units creates an environment where you want to spend time in.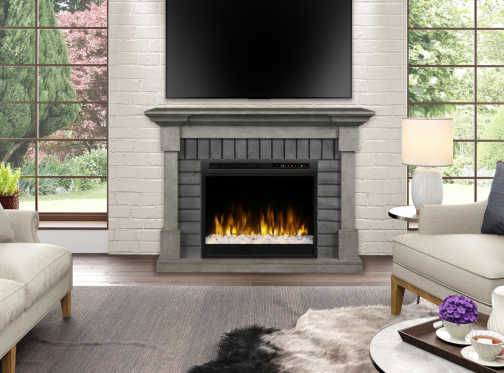 Changing Your Bedroom and Life
When you think about your bedroom, you should think of an inviting space that makes you feel welcomed, comfortable and relaxed. Adding a fireplace to your bedroom creates that environment for you.